Get free rides with the weekly fare cap
Pay no more than $33 in total fares between Monday and Sunday, no matter how many rides you take. It's like a 7-Day Unlimited Ride Pass, but you pay as you go, with no upfront cost.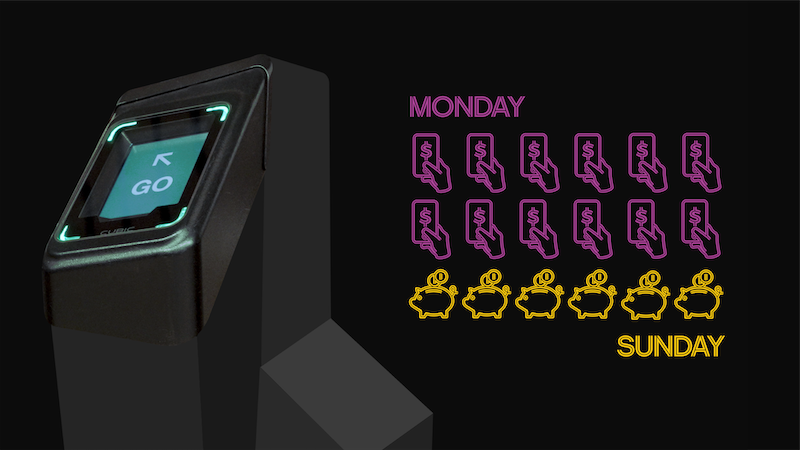 One secure account to manage your travel
Enjoy convenient features when you register for an OMNY account.
Get started
View your trips and charges
Securely access your trip history and transaction activity in your personalized dashboard.
Track progress toward your weekly fare cap
See how close you are to free rides.
Manage your travel cards
Manage your bank cards and OMNY cards — all in one place.
Contact customer service
Submit your questions to customer service quickly and easily.
Rolling out OMNY, everywhere for everyone
1
Subway and bus rollout
2019 to 2020
Completed
You can tap and go throughout New York City on all subways and buses.
2
Enhanced digital experience
2020 to 2022
Completed
Now you can reload OMNY cards online. Sign up for a free, optional OMNY account to access this and other benefits. More enhancements, features, and services are coming in the months ahead.
3
Expanded fare options
2022 to 2023
Reduced-Fare customers are starting to tap and go. Use the digital assistant in the bottom-right of your screen and follow prompts to put your reduced fare benefit on a smart device or contactless card. Next up is OMNY for students and for riders of paratransit, commuter railroads and other special programs. We will continue to expand OMNY card availability to more retail locations throughout the region, install new vending machines throughout the system, and more.
4
OMNY rollout completion
2024
The rollout of OMNY will occur in phases until OMNY is available everywhere for everyone.
Coming soon to Android and iOS: the OMNY mobile app